homeless:
having no place to live; having no home or permanent place of residence
Lately
I keep thinking: How am I going to find a new home?
Let's clarify that I am not actually homeless. It is insensitive to even say that I am because there are so many people who are homeless, who lack a roof over their heads. That is not my situation. Currently
I'm
staying in the lovely home of my friend Elena with a floor all my own, a room that is incredibly comfortable and now decorated with artwork of my own choosing. But as welcome as she's made me
—
it's her home.
I could go back to the house my husband and I own, but that would be a temporary and perhaps awkward fix.
I am feeling homeless.
I need to find a new place to call home. (And it can't cost a lot.)
I watch
Tiny House Nation and
Tiny House, Big Living
. I thought perhaps I should find a small plot of land near where I'd like to be and pay for someone really skilled and really clever to build me a tiny, tiny house that I could call home. But at less than 400 square feet (in order to qualify as "tiny" vs. "small"), well, that's probably not a realistic idea for a collector-type like me.
Then I thought maybe I could win a home of my own by entering HGTV's Home Giveaway Sweepstakes
—
which are many. At any given moment there are two or three absolutely spectacular homes, totally furnished, that these folks are aching to give away. For most of their sweepstakes, you can enter
online
twice a day at HGTV.com for your chance to win the perfect home (of someone's dreams) in the perfect location.
There are Smart Homes and Urban Oases and Blog Cabins...and there's extra cash, prizes and more, so, this seemed a practical way to begin.
When I first became aware of these giveaways, there was one in Charleston, South Carolina (not far from where I am now) and then an Urban Oasis in Boston, Massachusetts (I've always liked Boston; near my friends Lizzie, and Linda
&
Jim).
Unfortunately I missed out on both and the 2014 HGTV Dream Home giveaway in Lake Tahoe. I imagined this house would better connect me to my nephew who loves and visits Lake Tahoe frequently from the Bay area. If I had this home, well, it certainly
would
be a gathering place for all the skiing enthusiasts.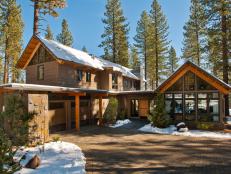 "
Built in the style of New Mountain architecture, this home offers a modern twist on the traditional, rustic mountain house."
I'd say it looks comfy enough for a non-skiing type like me.
2014: Lake Tahoe, California
Following those losses, next there was the HGTV Smart Home, "a modern Austin farmhouse" that went to lucky Isabel V. of Harlingen, Texas. This house
—
if I'd
won it
—
I thought might work for my friend Liz' son Lucas who lives
in Austin and i
s getting married next year...
I'd say this seems like a pretty nice master bedroom to start one's married life.
And then the next disappointment, and this was a

BIGGIE

: not winning 2015's Martha's Vineyard getaway
—
cause Katherine O. of Huntsville, Alabama won it. They even have a video of her and her husband getting the key and touring the house. She sure does look happy. Why wouldn't she?

This package giveaway was worth $2,000,000!

Lucky HER.
And I'd
so
hoped to become Vineyard neighbors with my friends Victor and Judie
—
sigh
—
it's n
ot happenin'.
Disappointment won't stop me. I get my email reminders. There's
still a chance for the
2015
Urban Oasis. This "
newly renovated 1920s bungalow is a haven of relaxed charm in the heart of Asheville, NC." I wanna relax.
My friend Judie (in Martha's Vineyard) might really like the artwork above this bed...cause of the doggie in those cute boots.
And isn't this art more Vineyard than Asheville?
Personally, I'm more taken with the stylish piece
below which reminds me of very decorative
paint can lids very artistically arranged...
Well, if I don't
get picked as the winner
for this Asheville Urban Oasis, there's always the DIY Network Blog Cabin, "a
modern mountain retreat located in Coeur d'Alene, Idaho." While the view IS beautiful, I do think this choice is rather too remote for a non-outdoorsy type like me...
Maybe
blabbing about
this wasn't the smartest idea
—
because if all you readers out there go ahead and start entering, well
—
it would
certainly reduce MY chances of winning, but then again,
UH-OH...gotta go. I just got my email reminder to
"Get 2 More Chances to Win Right Now!"
telling me
"
You're a Minute Away From 2 More Chances to Win!"

because it's time to...
Hey
—
don't laugh. This could be my lucky day.